The trains that circulate on the Yamanote line are approximately 200 metres long and pass with a frequency of beteen 2 and 4 minutes.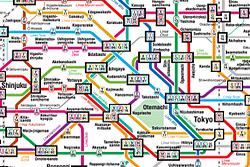 Tokyo transport map
The Yamanote line is the most important train line in Tokyo, a circular elevated line operated by the Japan Rail company. The time it takes to make a complete tour of the city (35 km) is approximately an hour.
The Yamanote line consists of 29 stations, and its first service began to operate in 1885, 40 years before the metro! Today more than 3.5 million people use this service every day.
Tariffs
Just as with the metro, the price of the Yamanote line varies depending on the distance travelled. The cost varies between ¥ 140 (US$ 1) and ¥ 260 (US$ 1.80), and the most common price is ¥ 160 (US$ 1.10).
How do I buy a single ticket?
If you would prefer to buy single tickets, you need to look up your final destination in the station maps. Next to the name of each station you'll see the price of the journey. Using the machines at the station you'll have to type in this value, and pay.
To avoid this process, and the need to waste time on each journey, you could use the Suica or Pasmo travel cards, which make this process quick and easy.
Metro or Yamanote Line?
To get to the most important tourist areas of Tokyo, the Yamanote line is absolutely perfect. The frequency, speed and comfort make it our preferred means of transport in Tokyo.
The most important place that this train does not take you to is Roppongi.