Inaugurated in 2012, the Tokyo Skytree is the tallest communications tower in Japan and at 634 metres tall it's one of the best viewpoints in all Tokyo.
Originally designed to be 610 metres tall, the height of the Tokyo Skytree was finally changed, as the numbers 6 (mu), 3 (sa), and 4 (shi) combine to make up the traditional name for the province in which Tokyo is found today: Musashi. The tower has now become a familiar and popular part of the city and in 2011 was recofnised by the Guinness book of world records as the tallest tower in the world.
The tower is white with just a tint of blue, trying to provide harmony with its surroundings in which traditional Japanese beauty and modern designs combine.
Viewpoints
The tower has two different viewpoints at two different heights. It's possible to buy a ticket that gives you access to both, or visit only the one which most interests you.
Tembo Deck
The first of the two viewpoints found at 350 metres up, has an area with a glass floor, meaning you can appreciate the structure and engineering feat of this tower from a different perspective.
Tembo Gallery
The best of the tower's viewpoints can be found at 450 metres up, and allows visitors to enjoy impressive panoramic views, reaching more than 70 km in all directions.
As well as from the viewpoints, you can also enjoy the views from the heights of the restaurant found on the 345th floor, and from the cafés on floors 340 and 350.
Unmissable
Tokyo Skytree is the best place to see Tokyo from up high: in our opinion a totally unmissable visit that no traveller should miss out on.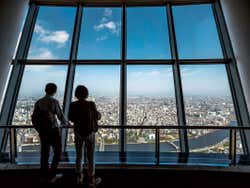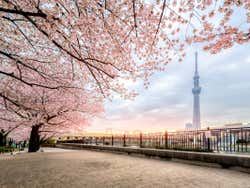 Schedule
Daily from 8 am to 10 pm (last entry 9 pm).
Price
350th Floor
Adults:¥ 2,100 (US$ 16.20)
Children between 12 and 17: ¥ 1,550 (US$ 12)
Children between 6 and 11: ¥ 950 (US$ 7.30)
450th Floor
Adults: ¥ 1,000 (US$ 7.70)
Children between 12 and 17: ¥ 800 (US$ 6.20)
Children between 6 and 11: ¥ 500 (US$ 3.90)
350th and 450th floors
Adults: ¥ 3,100 (US$ 23.90)
Children between 12 and 17: ¥ 2,350 (US$ 18.10)        
Children between 6 and 11: ¥ 1,450 (US$ 11.20)
Children under 5 have free access to all floors.