Yokahama is one of Japan's most modern cities, and the second largest after Tokyo. It boasts the second largest tower in Japan, and hosted the 2002 Football World Cup Final.
History
As the Edo period came to an end in Japan, so did isolationist policies which had for so long characterised Japan's politics. This meant opening up to foreign trade, science, and influence, and the port of the small fishing village of Yokohama was one of the first such ports to be opened, in 1859. This meant the city grew at an astonishing rate, and although much of the city, along with much of the region as a whole, was destroyed by the Great Kanto Earthquake in 1923, and again in American bombing raids in the Second World War, the city continued to grow into the reference point it represents today.
What to see in Yokohama
The star attraction Is the Yokohama Landmark Tower, the second tallest in Japan and with stunning three hundred and sixty degree views from its 'Sky Garden' from which you can even see Mount Fuji on clear days. 
Yokahama also boasts the world's largest Chinatown, a testament to the importance of Yokohama to international trade. When the port was opened, Chinese traders flocked to the city, starting businesses and lives there. And today the main attraction, aside from the nine elaborate Chinese gates, is the range of food on offer, with Manju steamed buns, ramen and other favourites often coming fused with local cuisine.
And just outside the city, you can find Hakkeijima Sea Paradise, a free water-themed amusement park an aquarium, although you do have to pay for entry to the Aqua Resorts and Pleasure Land.  This is a great option for anyone travelling with children.
Visiting Yokohama from Tokyo
The best way to get to Tokyo's second city is by reserving an excursion from the capital. This way you'll discover the city along with a specialist guide, and also get to see the historic city of Kamakura.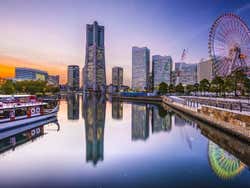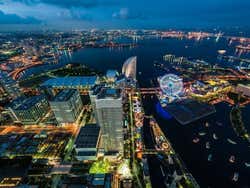 Transport
Train: Keihintohoku Line from Yurakucho Station