Ginza is often compared with Fifth Avenue in New York, and is the most high end and expensive neighbourhood in the city.
Although in recent years it has perhaps lost a little ground to Shinjuku and Shibuya, Ginzo was the face of modern, hip Tokyo throughout the 20th Century.
Its wide avenues full of high-end shops make for a cosmopolitan Tokyo. Ginza competes with Omotesando for the attention of the most demanding of fashionistas.
What to see in Ginza
There are various points of interest in Ginza which you should not miss. We recommend that you take a map of the area in the station to ensure you don't get lost.
The Sony Building
Even if from the outside it's one of the less striking buildings in the area, the "Sony Building" in Ginza has been the standard bearer for Japanese technology, with a showroom inside where you can find the latest gadgets the global tech giant has released.
Apple Store
Although the design of the outside of the Apple Store is surprising, inside you won't find anything you don't already recognise from the United States firm. But those internet addicts among you will find a good reason to visit the shop: free internet connection.
Kabuki-Za Theatre
Open in 1889 with delightful architecture, the Kabuki-Za  puts on daily shows between 3 and 5 hours long. If you want to make the most of one of these evenings, you can get an audio guide in English.
Ginza Wako
With its enormous clock and a distinct western flavour, the Wako building is one that's hard to miss. It was built in 1932 and can be found on the crossroads between Chuo and Harumi Dori, the two main avenues in Ginza.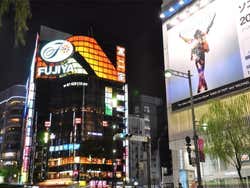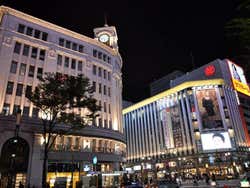 Transport
Metro: Ginza, Marunouchi (M), Hibiya (H) and Ginza (G) lines.