The Tokyo National Museum is the largest and oldest in all Japan. Visiting it is a great way to familiarise yourself with the culture and history of the country.
Collection
The collection in the museum is coposed of paintings, sculptures, swords, armour and other pieces both Japanese and from other Asian cultures. These pieces are distributed between the various buildings of the museum;
Honkan: Main building which was built in 1938, housing the Japanese gallery.
Hyokeikan: Objects from other Asian cultures, China, Korea, The Middle East and India.
Heiseikan: Housing temporary exhibitions.
Toyokan: Three story 'Asian Gallery'.
Horyuji Treasures Gallery: A highly modern building which has more than 300 objects from the 7th and 8th centuries.
And as well as these buildings, you can also visit the gardens, depending on the time of year.
Unmissable?
Although the Tokyo National Museum is the most visited in the city, if you don't have a lot of time in the city, it would be perhaps better to use the morning it takes to visit the museum to enjoying the cosmopolitan atmosphere of the city.
if we had to choose a museum, the Edo Tokyo Museum narrates the history of the city in a more entertaining and interactive way.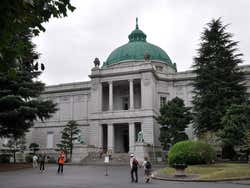 Schedule
Tuesday - Sunday: from 9:30 am to 5:30 pm
Closed on Mondays. If Monday is a public holiday, the closure passes on to Tuesday
Price
Adults: ¥ 1,000 (US$ 7.10)
University Students: ¥ 500 (US$ 3.60)
Children under 18 and Seniors over 70: Free.