The Tokyo metro network currently has 13 lines, and transports more than 8 million people every day.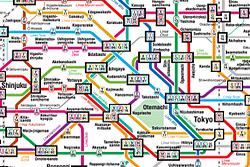 Plano de transporte de Tokio
The Tokyo metro, along with the Yamanote Line, the easiest way to get around the city and its surrounding regions. The punctuality and frequency of the trains is the envy of the rest of the world.
The constuction of the Tokyo metro began in 1925 and its first line opened in 1927, connecting Asakusa and Ueno.
Is it Complicated?
Although upon seeing a Tokyo metro map, you might think that using the metro in the Japanese capital must be impossible, the only difference compared to the metro in other cities is that there are two different networks operated by two different companies: Tokyo Metro and Toei.
This means that tickets for one network are not valid for the other, although it is possible to get combined tickets with a little discount.
Tariffs
The price of a ticket depends on the distance covered:
From 1 to 6 kilometres:

¥

170 (

US$

1.10)
From 7 to 11 kilometres:

¥

200 (

US$

1.30)
From 12 to 19 kilometres:

¥

250 (

US$

1.70)
From 20 to 27 kilometres:

¥

290 (

US$

2)
From 28 to 40 kilometres:

¥

320 (

US$

2.20)
Tokyo Metro Day Ticket:

¥

800 (

US$

5.40)
Toei Day Ticket:

¥

700 (

US$

4.70)
Day Ticket for both networks:

¥

800 (

US$

5.40)
If you get a pack of 10 tickets you get an extra ticket for free. And children have a discount of 50% on all prices.
What ticket should I buy?
Unless you're not going to use the metro much, in terms of price and flexibility the best option is to buy day tickets. If your hotel isn't near a Toei line, the ¥ 800 (US$ 5.40) ticket for the Tokyo Metro network will allow you to see all the main points of interest.
How do I buy a single ticket?
If you would prefer to buy single tickets, you need to look up your final destination in the station maps. Next to the name of each station, you'll see the price of the journey. Using the machines at the station you'll have to type in this value and pay.
To avoid this process, and the need to waste time on each journey, you could use the Suica or Pasmo travel cards, which make this process quick and easy.
Fun Fact
The Tokyo metro has its good points and its bad points, and among its good points are the quality of the service, and the strange calm on board, despite the thousands of people surrounding you. Just as on the trains, the use of your mobile phone is prohibited, and the Japanese take this 100% seriously, being extremely silent and respectful.
The worst thing about the Tokyo metro is the small stations and the lack of escalators or elevators in the majority.